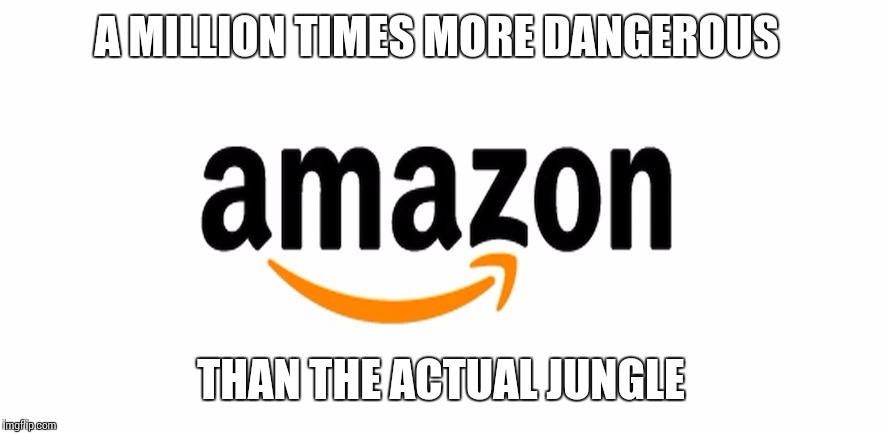 Online shopping is the greatest thing ever. Well maybe not ever, but as technology and I are not quite friends, nor do social media and I have anything in common enough to have even a friendly acquaintance kept up, the extent of my computer usage is kept generally to work, occasional binge-watching, and email correspondence. Except [insert cries of glory here] for online shopping. Not only can it be done in the comfort of my couch and pj's, or from my desk during the quiet hours at work over the Christmas season, but in the process I avoid the much detested crowds of malls and loathsome big box stores, as well as the disappointment with said loathed big box stores not having what I'm looking for. Almost everything can be found online, and – unless outrageous shipping fees apply – with a click of my little finger it's brought right to my front door! (Or, if outrageous shipping fees DO apply, I can stop at the store nearest me and pick it up upon arrival!).
      Amazon is wonderful, with books (which are, to be honest, the key focus of most online shopping I do) and so many other items often found for less expensive there then in the store. I know my figure well enough to be 95% successful at online dress/skirt shopping (happily having been given long legs and curves, I occasionally (very occasionally) look with slit eyes upon tiny girls who can pull off any set of trousers they fancy – which is a confession alluding to the fact that I avoid shopping for jeans and other trousers at all possible costs because of the frustration and disappointment at rarely finding some I am completely happy with). The only downside to online dress shopping is that most cute and feminine onliners come from the United States. Not only is the CAD bad right now but on top of the higher rate with exchange, we then have to pay duty to have it come across the border. I once paid the cost of another dress to have something shipped over. (Of course it was worth it because the dresses fit my sisters and I splendidly! Plus we would never have found anything as superbly feminine and classy at any local clothing store, so it's worth the extra cost every now and then).
      My most recent glee towards online shopping stems from finding and ordering two of Louisa May Alcott's books, "Eight Cousins" & it's sequel, "Rose in Bloom", and one of my personal favourites, "The Scarlett Pimpernel" by Baroness Orczy. Book stores don't contain them, even the much-acclaimed-and-very-large-place-of-excitement used bookstore downtown (which is always worth the trek to get to!) didn't have a decent copy of "The Scarlett Pimpernel". But I believe I found a lovely, if not hardcover, copy of it, for a most astonishingly reasonable price, online!! After several attempts at finding these three novels online for a decent cost, I found them. And ordered them!! Hooray!! I read Alcott's two as a teen, having laughed and cried I remember them fondly and would like to read them again, giving them their own spot on my bookshelf – and now they shall have just that. And, despite how much I enjoy the 1982 Anthony Andrews & Jane Seymour adaptation of "The Scarlett Pimpernel", the book is that much better!! And now that, too, shall have a place on my bookshelf. How very exciting.
And there are my few words of praise regarding online shopping.
NB: Despite the enthusiasm of this post, my home is not filled with consumeristic items from obsessive online shopping.